Desalination Industry Report
Feb 10 2014 Read 2668 Times
Author: Ivan Han and Xiao Wang on behalf of XportReporter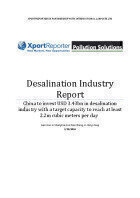 Free to read
This article has been unlocked and is ready to read.
Download
China's National Development and Reform Commission (NDRC) on 21 December 2012 announced its 12th Five-Year Plan for seawater desalination, declaring a set of goals to be fulfilled by 2015. During the 11th Five-Year Plan period (2006-2010), the annual average desal capacity in China increased by 60%. By the end of 2010, China had over 70 operating desal plants with a capacity of 600,000 cubic meters per day. Meanwhile, the number of desal plants currently under construction remains at five; the plants possess a designed capacity of 260,000 cubic meters per day (66% is based on reverse osmosis technology, 33% is based on low-temperature multi-effect distillation technology and the rest is dependent on other technologies).
At the end of 2011, China's seawater desalination capacity amounted to 660,000 cubic meters per day, 70% of which was designed for industrial use while the remaining 30% served as drinking water. Investment in desalination during 12th Five-Year Plan period - mainly through cooperate fundraising, bank loans, "social financing" (including IPOs and bond issuance), foreign capital and government subsidies - is estimated at USD 3.43bn (CNY 21bn). Of that amount, roughly USD 2.7bn (CNY 165bn) went towards desal and annexed pipeline network projects, USD 570m (CNY 35bn) in desal base construction and USD 160m (CNY 10bn) in related regulation establishment.
Problems constraining development of desalination: a lack of understanding regarding the importance of the industry; an inability to independently innovate when it comes to key techniques and technologies; the domestic enterprises engaging in seawater desalination are generally small in scale and have little experience in the field; the government is not doing enough to properly incentivize the development of the sector; the cost of desalination is significantly higher than that of tap water; the high cost of desalination has resulted in lackluster sales nationwide.
Reader comments
Do you like or dislike what you have read? Why not post a comment to tell others / the manufacturer and our Editor what you think. To leave comments please complete the form below. Providing the content is approved, your comment will be on screen in less than 24 hours. Leaving comments on product information and articles can assist with future editorial and article content. Post questions, thoughts or simply whether you like the content.