Evaluation of a Conceptual Site Model for Sediment Processes and Geochemical Conditions in a Large Industrial Port Facility (Augusta Bay, Sicily, Italy )
Mar 17 2014 Read 2872 Times
Author: Elisa Bizzotto, Fabio Colombo (ENVIRON Italy), John Pekala, Richard J Wenning, Phyllis Fuchsman (ENVIRON USA) on behalf of Environ Corp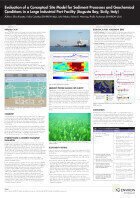 Free to read
This article has been unlocked and is ready to read.
Download
Studies of sediment quality in the Augusta Bay industrial harbor identified elevated concentrations of mercury and other metals and organic chemicals in bay sediments. Previous studies primarily focused on the nature and extent of total mercury in sediments, after which a large-scale dredging remedy was proposed on an area of about 30km2. The dredging remedy proposed was not based on an environmental impact analysis and engineering evaluation which considered physical, chemical, and ecological processes.

While it had been demonstrated that contamination did exist, characterization of bioavailability of contaminants, indication of the source of ecotoxicity, and evidence of impact to the bay ecology had not been developed. It was unclear if any substances in the sediment posed ecological or human health risks, therefore it was premature to recommend an appropriate, safe and effective sediment remedy.

To address this deficiency, further study in 2008 focused on understanding hydrodynamic processes and the chemical and ecological conditions related to contamination in the harbor. First, a conceptual site model (Figure1) was developed to guide the work and establish a foundation to understand how mercury and other chemicals in the sediment enter the aquatic environment, how they are transported within the bay and deposited in sediment, and where routes of exposure to aquatic life and humans might occur.
Reader comments
Do you like or dislike what you have read? Why not post a comment to tell others / the manufacturer and our Editor what you think. To leave comments please complete the form below. Providing the content is approved, your comment will be on screen in less than 24 hours. Leaving comments on product information and articles can assist with future editorial and article content. Post questions, thoughts or simply whether you like the content.