Methyl Mercury: Specialized Analytical Applications
Mar 13 2014 Read 2841 Times
Author: Diana Babi*, Lucas Hawkins, Eric Prestbo, Gabe Eiras on behalf of Tekran Inc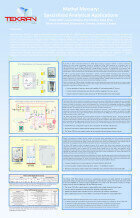 Free to read
This article has been unlocked and is ready to read.
Download
Introduction:

Methylmercury (MHg) is a widespread environmental concern due to health impacts caused by bioaccumulation of MHg in humans and other top-level predators. With the increasing prominence of MHg research, automated techniques are important to manage the large sample loads generated by ecological studies. Manual analytical techniques require skilled analysts for production of high-quality data and also require substantial time commitments due to labor intensive procedures. Tekran Research and Development crafted the Model 2700 Automated Methylmercury System to provide researchers an adaptable and efficient tool to quantify MHg in environmental samples using EPA Method 1630. The Tekran Model 2700 system utilizes in-vial purging, Hg species capture on Tenax sorbent column, separation utilizing temperature ramped oven and capillary GC column, pyrolytic breakdown to elemental Hg, and quantification by CVAFS. As cutting-edge science often diverges from standard analytical techniques, researchers require instrumentation capable of adaption to custom applications. Below are unique configurations and customizations of the Tekran 2700 currently being used by researchers.
Reader comments
Do you like or dislike what you have read? Why not post a comment to tell others / the manufacturer and our Editor what you think. To leave comments please complete the form below. Providing the content is approved, your comment will be on screen in less than 24 hours. Leaving comments on product information and articles can assist with future editorial and article content. Post questions, thoughts or simply whether you like the content.