Mercury spill control procedures
Feb 04 2014 Read 2583 Times
Author: Mark A. Ceaser on behalf of OMNI Ajax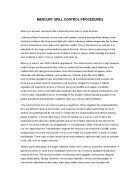 Free to read
This article has been unlocked and is ready to read.
Download
Despite the changes in federal regulations to reduce the amount of mercury going into landfills and usages in products consumers use, mercury free alternative products have been slow to replace existing items, and in some case, impossible to do so. These wastes, including spent fluorescent lamps and batteries as well as mercury-containing ballasts, thermostats, and electronics, are required by law to be recycled in most states. Knowledge of this situation makes educating people on the proper procedures and protection needed to clean up a mercury spill mandatory.
This White paper will give you the correct procedures in handling a mercury spill.
Reader comments
Do you like or dislike what you have read? Why not post a comment to tell others / the manufacturer and our Editor what you think. To leave comments please complete the form below. Providing the content is approved, your comment will be on screen in less than 24 hours. Leaving comments on product information and articles can assist with future editorial and article content. Post questions, thoughts or simply whether you like the content.