Reagents and standards for Soil
Jul 27 2015 Read 2425 Times
Author: Reagecon on behalf of Reagecon Diagnostics Ltd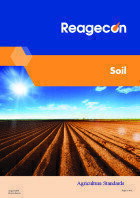 Free to read
This article has been unlocked and is ready to read.
Download
The methods for Soil analysis are described in the Soil Analysis Handbook of reference Methods (Soil and Plant Analysis Council Inc), Reagecon as one of the largest producers of Physical and Chemical Standards and Certified Reference Materials worldwide, recognise that the growth in the use of such standards requires an innovative approach to the presentation of our products. Enclosed in a single catalogue find all the standards, reagents and indicator solutions required to perform these analyses.
Reader comments
Do you like or dislike what you have read? Why not post a comment to tell others / the manufacturer and our Editor what you think. To leave comments please complete the form below. Providing the content is approved, your comment will be on screen in less than 24 hours. Leaving comments on product information and articles can assist with future editorial and article content. Post questions, thoughts or simply whether you like the content.