CEM India
Feb 20 2024 - Feb 22 2024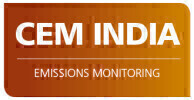 Discover the CEM India conference and exhibition, a vital event for those involved in India's rapidly growing economy. Recognising the significance of environmental compliance, the Central Pollution Control Board (CPCB) has mandated the adoption of Continuous Emissions Monitoring Systems (CEMS) for 17 categories of highly polluting industries. 
Drawing inspiration from successful models in Europe and the USA, India and China are now replicating these practices. The aim of CEM India is to assist process operators in achieving environmental objectives by offering practical solutions, technical support, and comprehensive guidelines. 
From pollution monitoring and manual stack monitoring to calibration and data interpretation, the event covers a range of topics and showcases industry case studies. Ideal for professionals in sectors such as Steel, cement, power plants, and more, this exhibition provides a platform to explore advancements in monitoring techniques and promote sustainable practices. Join us and contribute to India's pursuit of a greener future.