IMM Conference
Jun 08 2022 - Jun 09 2022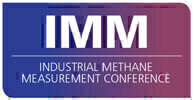 WHAT IS INDUSTRIAL METHANE MEASUREMENT CONFERENCE?
Methane is increasingly in the spotlight as an important greenhouse gas with many industry led initiatives to measure and reduce methane. This has been highlighted by the Methane Pledge to reduce methane emissions by 30% by 2030, signed up to by over 100 countries at the UN Climate Change Conference 2021 (COP26). The next International Methane Measurement Conference (IMMC 2022) will provide a unique environment for delegates to discuss this increasing need to determine and reduce methane emissions. Delegates will have the opportunity to compare capabilities, discuss challenges, review emerging technologies and ensure they are up to date with the latest reporting guidelines and policy developments for monitoring methane emissions.
Methane is one of the most potent greenhouse gases with a significant impact on global climate change. However, the persistence of methane in the atmosphere is much shorter than carbon dioxide, so initiatives to lower methane emissions are likely to be effective more quickly. It is therefore vital that methane emissions are reduced in the near-term, facilitated by accurate and reliable measurements. However, it can be challenging for industry, researchers and policy developers to keep pace with evolving regulations and increasingly sophisticated techniques available to monitor emissions.
IMMC 2022 will bring together scientists, regulators, and stakeholders to one global event aimed at providing a space where work can be presented and ideas discussed in all areas of methane emissions from metrology, to reporting guidelines to existing and emerging technologies.
WHAT ARE THE TOPICS?
Scientific understanding, regulation and policy
Industrial case studies and application of current capabilities
Demonstration and validation of novel technologies/techniques
Sensors, instruments and emerging technology
Future capabilities and industrial needs
WHO SHOULD ATTEND?
Industry, including oil & gas, waste management, product & equipment manufacturer sectors, petrochemicals, and agriculture industries
Policy makers and regulators, who set and enforce the requirements for monitoring methane
Scientists and academia, involved with developing the methods and quantification of methane emissions
Solution providers and consultants, who work with the above stakeholders in providing consultancy for the measurement of industrial methane emissions