AQE 2024
Oct 09 2024 - Oct 10 2024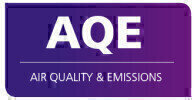 AQE, the Air Quality and Emissions show, focuses on Instrumentation and services for air quality and emissions monitoring. 
It offers a technical program aimed at keeping you up to date with the latest trends, regulations, methods, techniques, and technologies. Furthermore, you can also network with all industry stakeholders including suppliers, regulators, and end-users from industry that need to monitor, test, and analyse air quality and emissions. 
The event covers a wide range of topics such as ambient air monitoring, leak detection, energy from waste, green cities, renewable energy, dioxin monitoring, bioaerosols, odour monitoring and treatment, gas analysis, sensor technology, manual stack monitoring, weather monitoring, fugitive emissions, indoor air quality, fence line monitoring, methane monitoring, workplace monitoring, air treatment and abatement technologies, big data, calibration gas, MCERTS, and gas detection. 
This exhibition is ideal for industry professionals, process operators, environmental managers, control and instrument users, planners, policy makers, regulators from local authorities and environment agencies, scientists, academics, and solution providers and consultants across all industries involved in testing, monitoring, or treating air pollution.